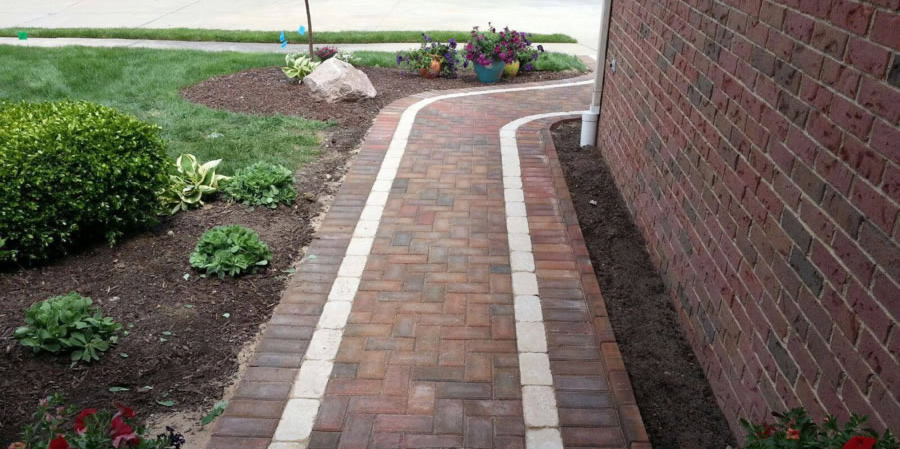 Brick Walkways: 10 Ideas and Designs
Walkways are probably one of the oldest forms of human construction. Their role is to serve one of the most basic functions there is: helping us get from A to B. In the present day, they're mostly relegated to parks and public spaces, but many people still yearn for the simple pleasures of a brick walking path. Walkways are more than what they once were, and a good hardscape contractor knows that a great design along with complementary landscaping will turn an ordinary path into a beautiful work of yard art.
The Shelby Twp brick paver contractors at PMS have sat down, put our heads together, and compiled a list of 10 great ideas and designs for brick paver walkways. If you're trying to decide on how to approach a walkway project, you'll want to keep reading.
1.    Dark grey brick comprises the center of the pathway, with metal and wire railing on the sides for a sleek, modern look.
2.    Soft orange brick laid end-on-end with a grey border is an excellent idea for a path near garden beds, and provides a nice neutral backbone to the landscape.
3.    A yellow zig-zag pattern alternating with grey brick gives a unique and creative look, and it can also be outlined with red bricks for definition.
4.    Standard red brick laid flat across will blend organically with white and green plants and will exude the classic appeal of brick.
5.    For the more creatively inclined, consider a minimal brick path comprised of "islands" of two-brick squares which can be filled in with some ground cover, such as clover.
6.    Curled-pattern grey brick walkway gives an artful visual appeal, especially if you want your path to be wider than average.
7.    Try bordering a standard red brick walkway with large stones to keep a nice buffer and enhance overall curb appeal.
8.    Square grey brick is great if used for a garden walkway, especially if you have bamboo on your property. The contrast can add a zen-like ambience to your yard.
9.    A diagonal pattern brick in uniform color (of your choice) with a linear border layer can create a striking walkway to suite any taste.
10.  Multiple mixtures of brick patterns can create a unique and exciting walkway design. But often times asking a professional for assistance is a smart idea in this case as intermixing colors and designs can turn out poorly if you're not careful.
We hope our list has provided you with some brick paver designer ideas. Remember to keep in mind that what you ultimately choose will need to fit your taste, style of your landscape, and practical requirements as well.
Looking for a Shelby Twp Brick Paver Contractor?
If you are looking for a Shelby Twp brick paver contractor, PMS would be happy to write you an estimate or answer any questions you may have.
PMS Diversified Construction Services is located in Sterling Heights, Michigan and provides hardscape services throughout Southeast Michigan.
Call: 1-800-BRICKPAVERS