Traditional and Exposed Concrete Driveways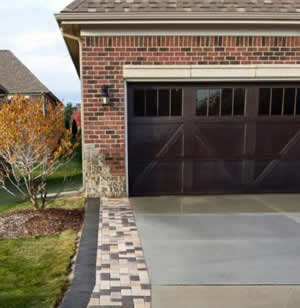 Here at PMS we believe in everything that we install. This includes both traditional concrete and exposed aggregate. Exposed aggregate tends to be a little more expensive, however, it does include a sealer that helps protect the concrete from the elements.
When installing both exposed aggregate and regular flat concrete, the preparation of the site begins the same way. After removing any existing surfaces, we install 1-2″ of crushed stone and 1-2″ angular sand as our base. We then set our forms to 4" or more, depending on what is specified. All of our projects include wire reinforcement; saw cutting, and any permits that are needed. 4" is our minimum slab thickness however, many people select a 6" thickness. Our sales representatives are always more than glad to help decide which thickness is best for each application. We do however make sure that our concrete flatwork is always suitable for vehicular traffic.