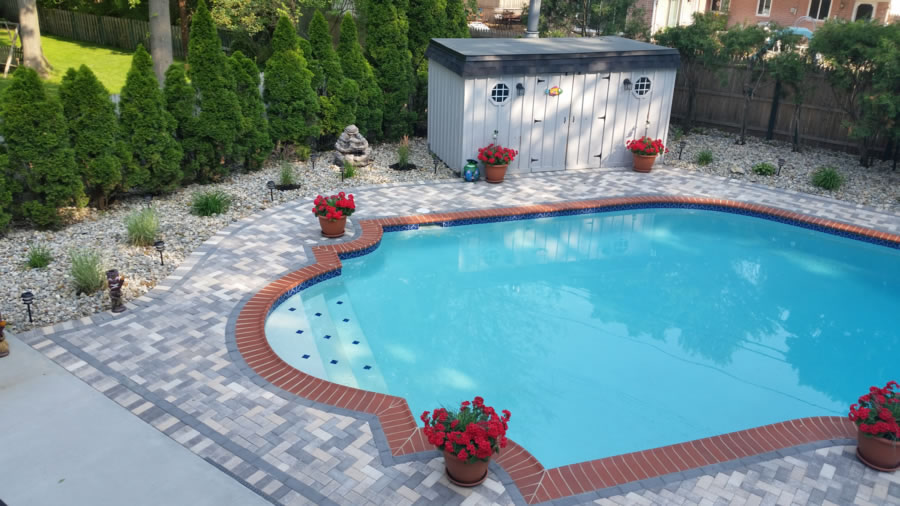 Whether you are installing a new pool or remodeling your existing pool, you have choices for the type of pool decking that you can use. Brick pavers are a great option for the homeowner that wants to install a beautiful and easy to maintain pool deck, but wants something different than concrete. When you are considering materials for your pool decking, here are four reasons that brick pavers are the best, most durable option for your project.
Brick Pavers are Durable
Many people believe that brick or stone pavers aren't a good choice for pool decking. They think that they are not capable of standing up to the water and wear and tear that come along with a pool. The reality is that brick pavers are a great option for pool decking. Brick pavers are durable and when installed and sealed by a professional hardsacpe contractor and can easily withstand the water and traffic that come with owning a pool.
Pavers Have Many Decorative Options
If you are looking for a decking material that can provide a wide range of color, texture and shape options, then brick pavers are the right material for your pool. The variety of style and color of pavers allow you to install pavers in unique designs, as borders, and to create a backyard oasis that is perfect for your style and home. If you are installing a new pool and want your deck to match existing structures in your yard, the variety of colors, shapes and textures will easily coordinate with the patios, decks and existing brick or stone features in your yard.
Brick Pavers are Easy to Maintain
There is a myth that brick pavers are difficult to maintain and they require more work and effort than other types of pool or patio decking. The reality of brick pavers is that they are incredibly easy to maintain, and are a great choice for the homeowner that wants a beautiful patio or pool deck that is long lasting with little to no maintenance necessary. When installed by a Novi brick paver, your patio can be shoveled in the winter and hosed down in the summer. If pavers come loose or sink or heave, the entire pool deck doesn't need to be replaced, simply repair the few problem bricks.
Brick Pavers are Safe
The last thing you want around your home pool is a deck that is slick and can be dangerous for your family. Many brick pavers come with a moderate texture that is ideal for the decking around your pool. This moderate texture provides gentle grip for solid footing around your pool. Often the texture necessary to make poured concrete safe for pool decking, can be sharp and uncomfortable to walk on, but that isn't the case with brick pavers. Brick pavers also don't get hot like concrete can, making it easy to walk on in the summer without shoes or the chance of burning feet.
Contact a Novi Brick Paver Contractor
Brick pavers are becoming a popular choice for homeowners that want a durable yet beautiful option for their home pool decking. If you are installing a new pool or remodeling an existing one and are looking for a Novi brick paver contractor,  call PMS Diversified Construction . Our designers can help you understand all of your options for creating the perfect backyard pool.
Call 1-800-BRICK-PAVER